STUDENTS FROM CHINA BEGIN SUMMER ACADEMIC AND CULTURAL PROGRAM AT BERKELEY COLLEGE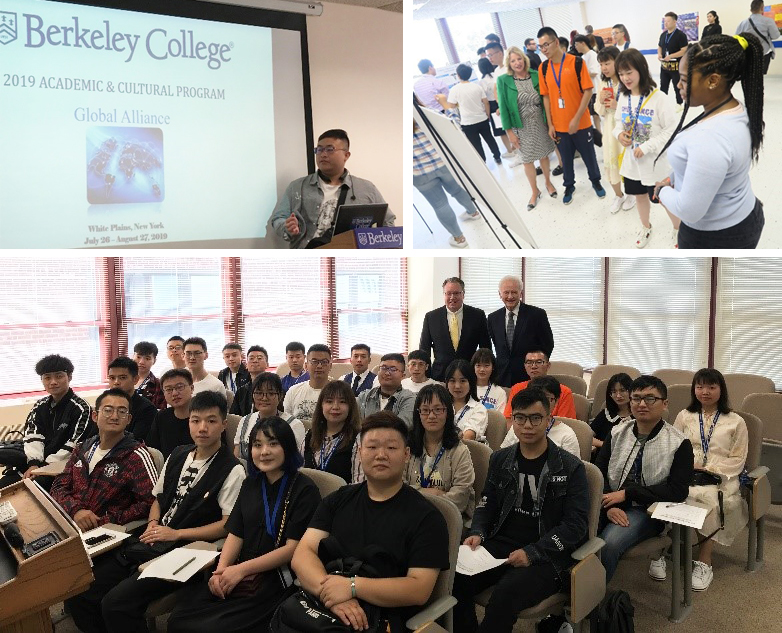 See caption below.
Share the News: @BerkeleyCollege #NewsBerkeley #China

Orientation for this year's Academic and Cultural Program offered by Berkeley College to students from Guizhou University of Finance and Economics (GUFE) in China began with excitement on Friday, July 26, 2019, in White Plains, NY, where the students will reside during their four-week stay. On their first day, the students viewed poster presentations by Berkeley College First-Year Honors program students on the theme of "Unspoken Barriers to Social Justice."
The Academic and Culture Program for students from GUFE is part of Berkeley College's Global Alliance. The academic program comprises four courses – accounting, economics, finance, and management, taught in English. The cultural and sightseeing part of the program includes visits to places such as Wall Street, One World Trade Tower, the United Nations, the Statue of Liberty and the Metropolitan Museum of Art. This is the fourth year Berkeley has hosted students from China during the summer.
Photo Caption: (Top left) A visiting student from Guizhou University of Finance and Economics (GUFE) in China participating in the Global Alliance Academic and Cultural program at Berkeley College introduces himself in English during orientation. (Top right) GUFE students were among those meeting Berkeley College First-Year Honors program students who presented their posters on the theme "Unspoken Barriers to Social Justice," on July 26, 2019. Academic Advisor Catherine Einersen, EdD, Global Alliance (wearing green jacket), is co-teaching the Principles of Management course. (Bottom) Michael J. Smith, President of Berkeley College (standing left) and William "Blake" Murray, Program Director (standing right), Global Alliance, with students from GUFE at orientation to the Academic and Culture Program at Berkeley College in White Plains, NY.
About Berkeley College
A leader in providing career-focused education since 1931, Berkeley College is accredited by the Middle States Commission on Higher Education and enrolls more than 7,000 students – including more than 350 international students – in its Master's, Bachelor's, and Associate's degree and Certificate programs. Students can study in more than 20 career fields. Berkeley College is comprised of the Larry L. Luing School of Business®, the School of Professional Studies, the School of Health Studies and the School of Liberal Arts. The School of Graduate Studies offers an MBA in Management online and in Woodland Park, NJ.
Berkeley College has three New York campuses – Midtown Manhattan, Brooklyn and White Plains. In New Jersey there are four campuses – Newark, Paramus, Woodbridge and Woodland Park. Berkeley College Online® serves a global population. For six consecutive years, U.S. News & World Report has named Berkeley College among the Best Colleges for Online Bachelor's Programs and among the Best Online Bachelor's Programs for Veterans. The website address is www.BerkeleyCollege.edu.
- end -
To view the above photos in high resolution, visit:
Top left: https://berkeleycollege.edu/newsroom/images/ALL_GUFE_StudentIntro_072619.jpg
Top right: https://berkeleycollege.edu/newsroom/images/All_GUFEStudents_072619LR.jpg