Above, left to right: Berkeley College volunteers prepared materials for the Relay for Life events, readying the t-shirts, assembling bags and creating team fundraising signs at the American Cancer Society in Cedar Knolls. At the Bridge of Books Foundation in Holmdel, volunteers sorted and boxed books that will be distributed to children throughout New Jersey.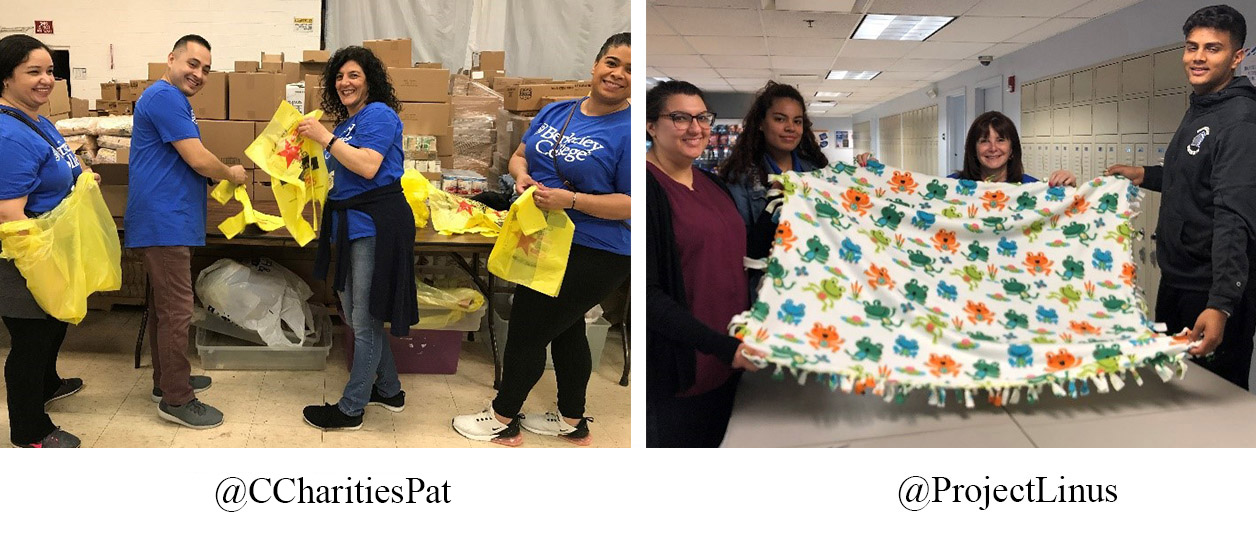 Above, left to right: At Catholic Family & Community Services in Paterson, volunteers helped package food, stock shelves, and assist customers in the food pantry. On campus in Newark and Woodbridge, Berkeley College volunteers created no-sew blankets for hospitalized children.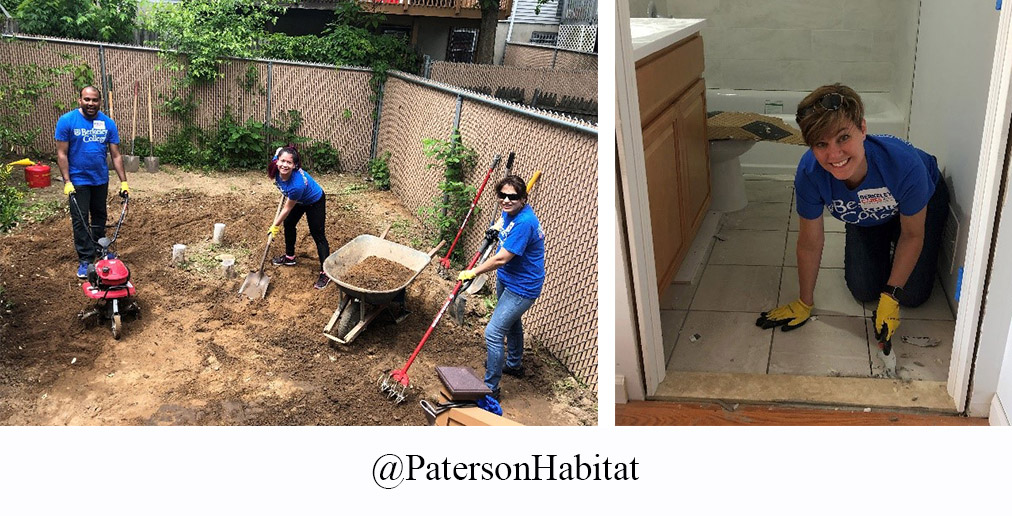 Above: Berkeley College volunteers at Paterson Habitat for Humanity helped with construction projects, preparing grounds outdoors and finishing inside.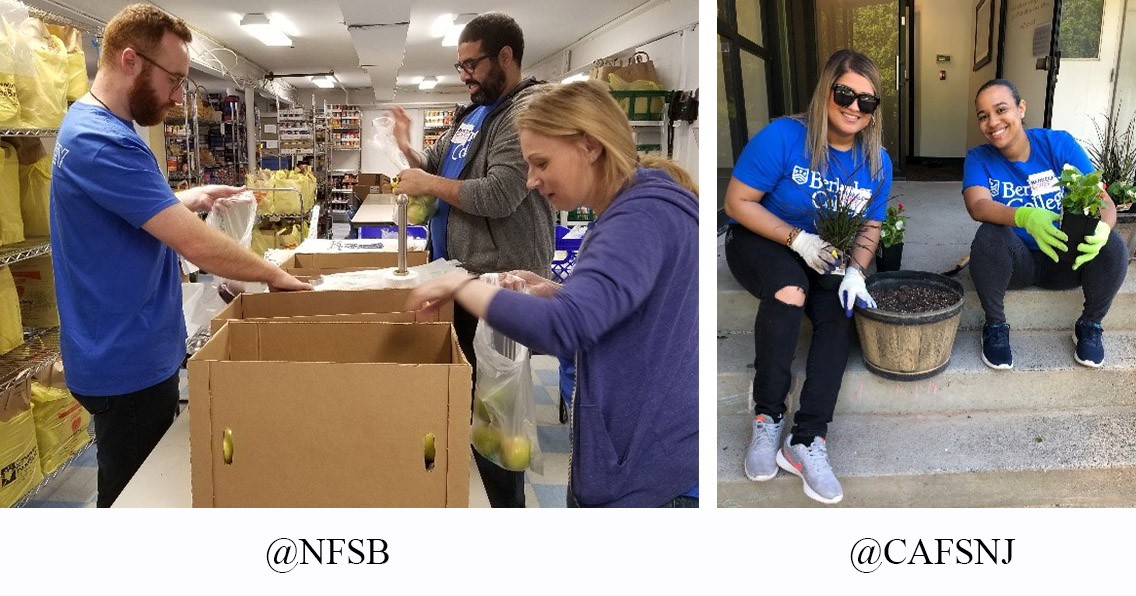 Above, left to right: For the Nutley Family Service Bureau, volunteers organized the nonperishable foods in the pantry, took inventory and stocked shelves. At Children's Aid and Family Services in Paramus, volunteers gardened at a group home for residents with developmental disabilities.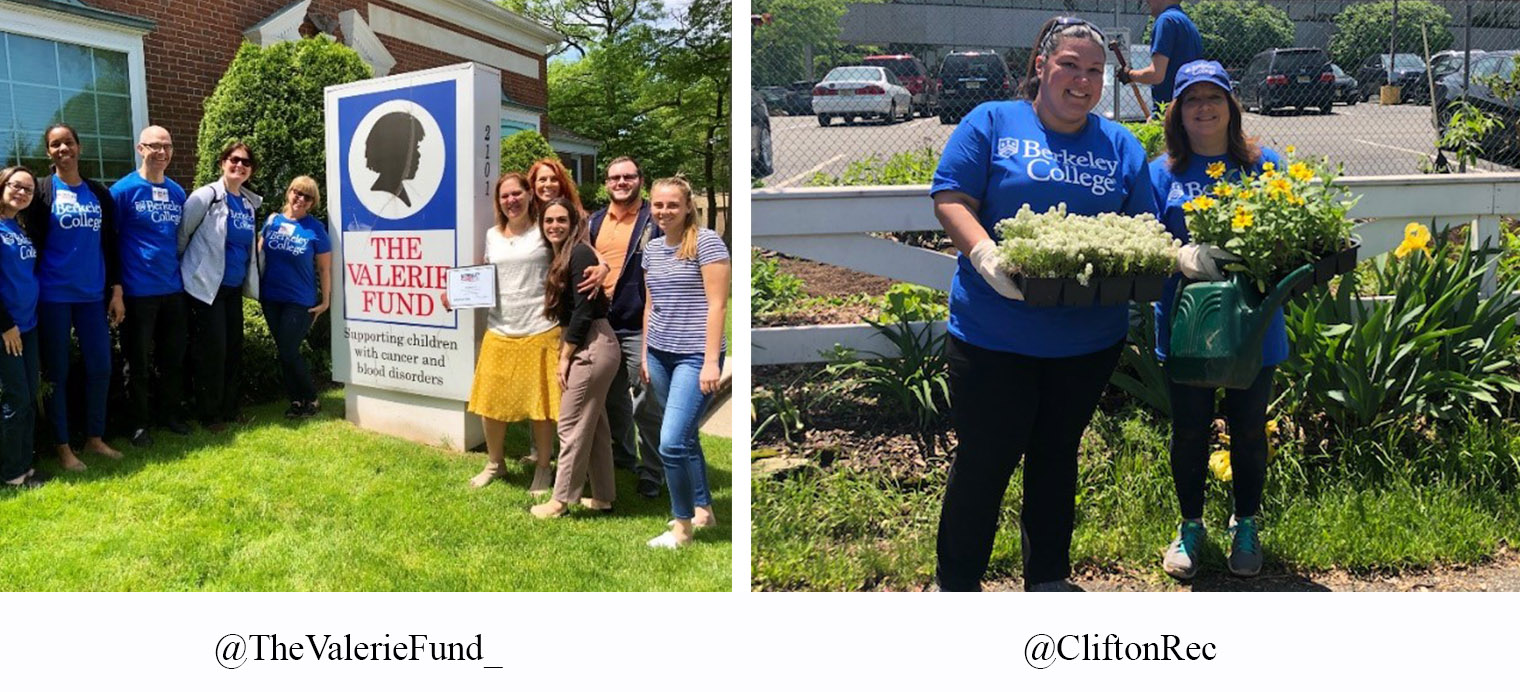 Above, left to right: Berkeley College volunteers completed the administrative work for The Valerie Fund in Maplewood to coordinate a mailing about the upcoming 5K run. At Morris Canal Park, volunteers landscaped the area for the Clifton Recreation Department.


More than 480 Berkeley College faculty, staff, students and alumni in New Jersey and New York contributed 2,300 hands-on volunteer hours to more than 50 organizations during the College's annual Community Service Week, May 19-24, 2019. In New Jersey, Berkeley College volunteers helped organizations like the American Cancer Society, Children's Aid & Family Services, the Valerie Fund, Project Linus and Boys & Girls Clubs, among others. In conjunction with the 10th anniversary of Berkeley Cares, which encompasses all volunteer and service-based activities at the College, Berkeley College volunteer teams presented representatives of each organization with certificates, which recognized that organization's contribution to community service.

Berkeley College also offered professional development programs for staff of nonprofit, civic and community organizations. Community service is part the mission and values of Berkeley College, exemplifying that teaching and learning take place both in and out of the classroom. In New Jersey, volunteers served at organizations in Bergen, Essex, Middlesex, Monmouth, Morris and Passaic counties.

About Berkeley College
A leader in providing career-focused education since 1931, Berkeley College is accredited by the Middle States Commission on Higher Education and enrolls more than 7,000 students – including more than 350 international students – in its Master's, Bachelor's and Associate's degree and Certificate programs. Students can study in more than 20 career fields. Berkeley College is comprised of the Larry L. Luing School of Business®, the School of Professional Studies, the School of Health Studies, and the School of Liberal Arts. The School of Graduate Studies offers an MBA in Management online and in Woodland Park, NJ.

Berkeley College has four New Jersey campuses – Newark, Paramus, Woodbridge and Woodland Park. In New York there are three campuses – Midtown Manhattan, Brooklyn and White Plains. Berkeley College Online® serves a global population. For six consecutive years, U.S. News & World Report has named Berkeley College among the Best Colleges for Online Bachelor's Programs and among the Best Online Bachelor's Programs for Veterans. The website address is www.BerkeleyCollege.edu.

- End -

To view high-resolution versions of these photos, visit:

https://berkeleycollege.edu/newsroom/images/NJ_CSWCombined1_060419.jpg https://berkeleycollege.edu/newsroom/images/NJ_CSWCombined2_060419.jpg https://berkeleycollege.edu/newsroom/images/NJ_CSWCombined3_060419.jpg https://berkeleycollege.edu/newsroom/images/NJ_CSWCombined4_060419.jpg https://berkeleycollege.edu/newsroom/images/NJ_CSWCombined5_060419.jpg