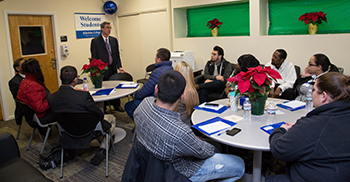 Photo Caption: Chris W. Grevesen (standing), PhD, Dean, Berkeley College School of Graduate Studies, addresses incoming graduate students during Winter 2017 Orientation. Berkeley College now offers a combined BBA/MBA dual degree program that gives students the option to complete both degrees in four years.
Berkeley College is introducing a dual degree program that provides students with the option of completing a Bachelor of Business Administration (BBA) and a Master of Business Administration (MBA) in Management within four years.
"Berkeley College is dedicated to providing students with a streamlined pathway to growth in dynamic professional careers," said Michael J. Smith, President of Berkeley College. "The program offerings at Berkeley College prepare our students for the demands of their chosen fields, while also promoting economic development."
Approved for on-site and online programs in New Jersey, the Four-Year Combined BBA/MBA Option is available to students pursuing degrees in Accounting; Fashion Merchandising and Management; Financial Services; General Business; Health Services Management; International Business; Business Administration – Management; and Marketing Communications.
"The Four-Year Combined BBA/MBA Option is an ideal way for high-performing students in our undergraduate business administration programs, both online and on-site, to complete both their Bachelor's and Master's degrees at an accelerated pace," said Chris Grevesen, Ph.D., Dean, Berkeley College School of Graduate Studies. "By taking two graduate courses as free electives in their senior year, BBA/MBA students enter the graduate program with advanced standing and realize a substantial tuition savings."
To be considered for this program, current Berkeley College undergraduates or transfer and prospective students must have a cumulative grade point average of at least 3.50, be enrolled full-time or have the intention to study full-time, and successfully complete (with a B grade or better) six undergraduate courses that correspond to the MBA foundation requirement. Students must also complete all requirements for the MBA in Management degree in one calendar year. This includes completing two MBA core courses as undergraduate electives, and completing 30 MBA credits in the three semesters of their fourth calendar year of study.
The Four-Year Combined BBA/MBA Option is part of Berkeley College's continuing efforts to provide advanced students a jumpstart into the workforce through higher education. In May 2016, the Berkeley College School of Health Studies began offering an accelerated program for Licensed Practical Nurses (LPNs) to earn their Bachelor of Science in Nursing (BSN) degrees in less than three years. Berkeley College also has a Transfer Opportunity Program, offering scholarships to students who have earned an Associate's degree from a two-year public county/community college in the United States.
A leader in providing career-focused education since 1931, Berkeley College is accredited by the Middle States Commission on Higher Education and enrolls more than 8,000 students – including more than 600 international students – in its Master, Baccalaureate, and Associate degree and Certificate programs. Students can study in more than 20 career fields. Berkeley College is comprised of the Larry L. Luing School of Business®, the School of Professional Studies, the School of Health Studies and the School of Liberal Arts. The School of Graduate Studies offers a Master of Business Administration degree in Management online and in Woodland Park, NJ.
Berkeley College has five New Jersey campuses – Dover, Newark, Paramus, Woodbridge and Woodland Park. In New York there are three campuses – Midtown Manhattan, Brooklyn and White Plains. Berkeley College Online® serves a global population. In 2016, U.S. News & World Report named Berkeley College among the Best Colleges for Online Bachelor's Programs and among the Best Online Bachelor's Programs for Veterans, both for the third consecutive year. The website address is www.BerkeleyCollege.edu.
- End -
To see a high resolution image of the above photo, click here.