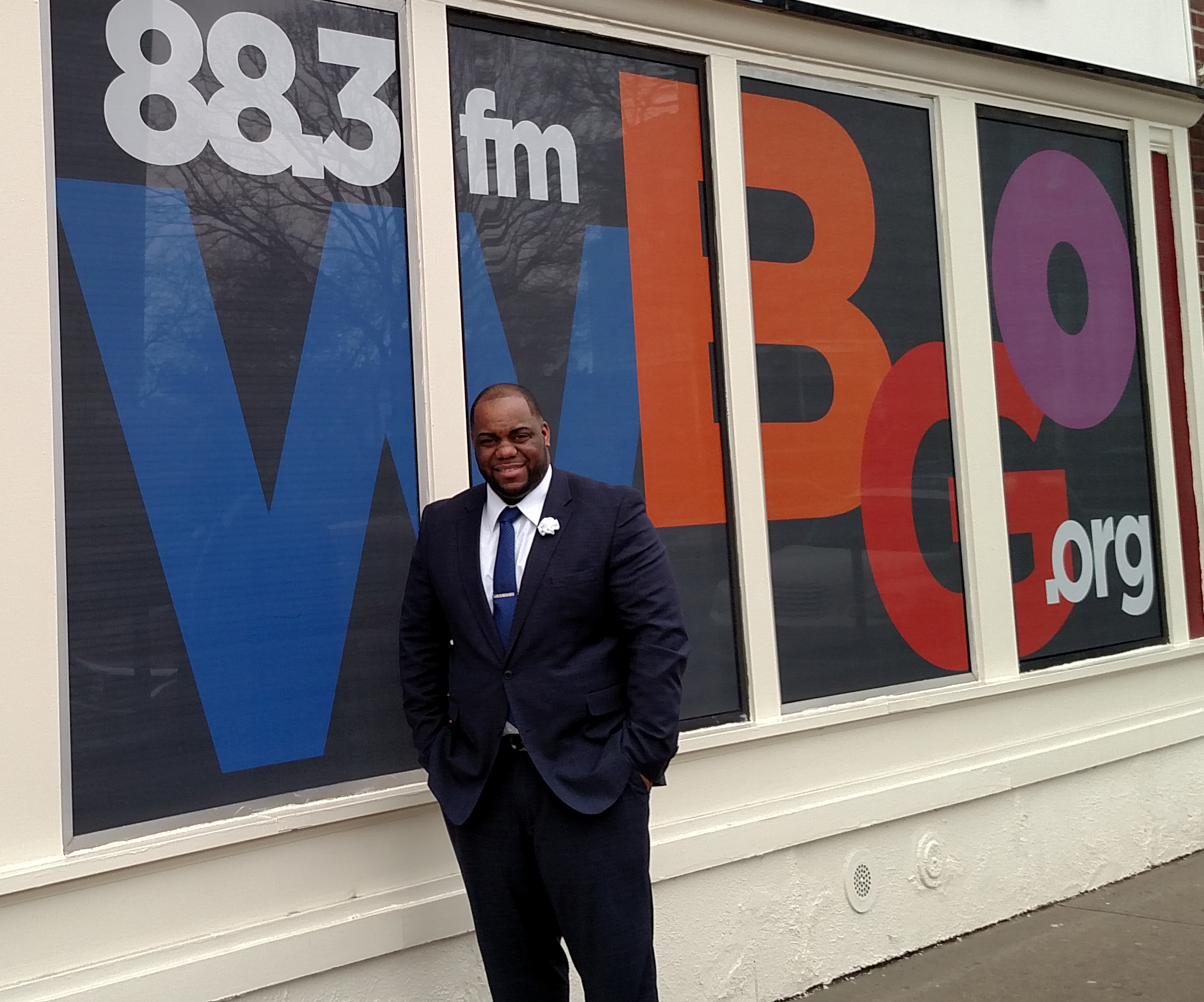 Listen to Edison Jaquez's interview on the WBGO Journal in its entirety here.
Share On Social Media: @BerkeleyCollege, @WBGO, @WBGONews, @EJaquez3508, #NewsBerkeley
Newark Public Radio station WBGO recently welcomed Berkeley College alumnus, author, and motivational speaker Edison Jaquez to appear on its weekly news magazine program, WBGO Journal. A resident of Perth Amboy, NJ, Mr. Jaquez shared his determination to mentor and guide others, and recalled the hardships he overcame as a young immigrant from the Dominican Republic.
Mr. Jaquez's life experiences are detailed in his book, "A Second Chance: Life Lessons Turned into Living Dreams," which was the selected reading for the summer 2016 Berkeley College Online® Book Club. During the interview on the WBGO Journal, Mr. Jaquez read the following passage from his book about the lessons he has learned from mentoring:
"When I started talking to my first group about their goals, I realized I was talking to kids whose goals were simply to survive, to not get arrested. No one ever told them they could excel at anything … Through all that, these young men needed help finding answers to questions such as 'Is it ok that I grew up without a father?' and 'Can you tell me that I can make it coming from my hood?' Not only could I not expect change overnight, but I realized that we had to go at their pace, not at my pace."
Mr. Jaquez is the CEO/Founder of B-Men, and Co-Founder of BYOUtiful – mentoring organizations designed to enhance the lives of today's youth. He is also the Program Coordinator for the Civic Justice Corps at the Jewish Renaissance Foundation in Perth Amboy, NJ, where he is responsible for program planning and training, working with youth between the ages of 16 and 25. He further shares his story with audiences young and old through motivational speaking engagements throughout New Jersey.
Mr. Jaquez graduated from Berkeley College in 2009 with a B.S. in Business Management. He received the Alumnus of the Year Award in 2016 for his contributions to the community. He also received the Principles for Life Education Award from the I Can Foundation, and an Award of Recognition from the United Dominicans of Perth Amboy.
Read more about Mr. Jaquez here.
Mr. Jaquez will be signing copies of his book at Perth Amboy Public Library on January 19 at 6 p.m. He is also currently working on a second book.
Photo Caption: Berkeley College alumnus, author, and motivational speaker Edison Jaquez of Perth Amboy, NJ, recently appeared on Newark Public Radio's weekly news magazine program, WBGO Journal. Pictured above: Mr. Jaquez (left) with Doug Doyle, WBGO News Director and Co-Host of the WBGO Journal (right).
A leader in providing career-focused education since 1931, Berkeley College is accredited by the Middle States Commission on Higher Education and enrolls more than 8,000 students – including more than 600 international students – in its Master, Baccalaureate and Associate degree and Certificate programs. Students can study in more than 20 career fields. Berkeley College is comprised of the Larry L. Luing School of Business®, the School of Professional Studies, the School of Health Studies, and the School of Liberal Arts. The School of Graduate Studies offers a Master of Business Administration degree in Management online and in Woodland Park, NJ.
Berkeley College has five New Jersey campuses – Dover, Newark, Paramus, Woodbridge and Woodland Park. In New York there are three campuses – Midtown Manhattan, Brooklyn and White Plains. Berkeley College Online® serves a global population. For four consecutive years, U.S. News & World Report named Berkeley College among the Best Colleges for Online Bachelor's Programs and among the Best Online Bachelor's Programs for Veterans. The website address is www.BerkeleyCollege.edu.
- End -
To see a high resolution image of the above photo, go to:
To stream Mr. Jaquez interview with the WBGO Journal in its entirety, click here.
To read more about Mr. Jaquez, click here.